Pulse Center for Patient Safety Education & Advocacy program, "How to Have Difficult Mental Health Conversations"' is approved for 1.0 Ethics CE by the Patient Advocate Certification Board to satisfy the requirements for Board Certified Patient Advocates (BCPA). Program.

Through September 25, 2024


About this Program
Many patients and families experience overwhelming fear and anxiety when dealing with mental health issues. Essential to providing assistance to those in need is the ability to understand and overcome the barriers to effective communication. To be effective, patient advocates must understand the unique challenges of each mental health condition.
Natasha will cover the intricacies and challenges often associated with talking about mental health and mental illness. Topics covered include why people are afraid to talk about mental health/illness and why it is critical to do so. It covers how to protect your own mental health while entering into these conversations. It also specifically outlines how to talk about addiction, how to talk to a person who has lost touch with reality (is psychotic) and how to talk about suicide. Finally, Natasha explores the importance of offering hope to those in need.

Objectives:
Attendees will be able to . . .
1. Define the reasons patients and families experience fear and anxiety when dealing with mental health issues
2. Describe the common barriers to effective communication
3. Identify and explore strategies and perspectives to reduce fear and anxiety
4. Differentiate the unique challenges posed by different mental health concerns
5. Formulate a strategy to talk with patients about addition, psychosis and suicide
6. Design interventions that encourage and support hope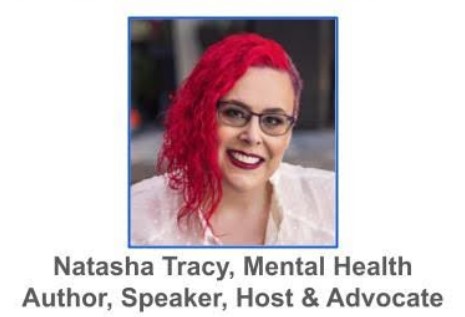 About Natasha Tracy
Natasha Tracy is an award-winning writer, speaker and consultant who has been living with bipolar disorder for most of her life. Natashia is on a mission to bring well-researched, high-quality information on mental illness forward. She has been a leader in educating patients, families, caregivers and the public on a wide variety of issues impacting individuals with mental health illness.
Natasha uses a variety of venues on social media along with Bipolar Burble blog, The Mental Illness in the Workplace Podcast and her highly regarded book, Lost Marbles: Insights Into My Life with Depression & Bipolar to educate, as well as create community around mental health issues.



Check your inbox to confirm your subscription